Projects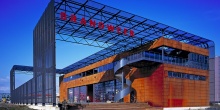 Just south of Berkel & Rodenrijs a new fire station has been built to service the suburbs build between Rotterdam and The Hague. Because of the growing number of inhabitants in this region, a future extension is already taken into account in the design. The total plot is covered with a steel mesh in which all future extensions will fit. The façade is covered with corten steel plating wich create the desired sturdy look.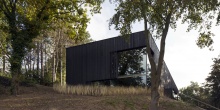 Villa Meijendel takes its name from the nature reserve in which it is located, where a forest meets a valley of dunes. The house is constructed from concrete and set into the side of a sandy slope. The building's design aims to create a dialogue with its surroundings, both through the way the form and materials engage with the landscape, and through the use of glass to provide views out from and into the house.
The boxy geometric structure is entirely clad in charred timber, creating a textured black surface that appears different depending on how sunlight falls on it. The exterior finish, inspired by the ancient Japanese shou sugi ban technique, also helps to preserve the wood. Sometimes the house is almost invisible against the dark edge of the forest, sometimes it sparkles in the sunlight because of the glittering charred wood, as such forming a background for the play of shadows of tree trunks and branches. The villa hides and reveals itself in the landscape.
The property has its entrance on a middle level accommodating an office and two bedrooms. Stairs ascend to an open-plan kitchen and living space, and drop down to a master bedroom and gym room.
The living room features a full-height corner window that looks out through the trees towards the dune valley. A lower window facing to the rear and a large glazed surface lining the adjacent double-height circulation area face out onto the forest. At the far end of the first floor, sliding glass doors lead out from the kitchen onto a terrace.
The material palette –concrete, steel and anodised aluminium– was chosen to complement the tones and textures of the surrounding environment. Each material is applied in a raw, untreated form. Internally, the walls are finished with smooth concrete, while the rough-sawn Douglas fir beams supporting the ceilings feature a distinctive grain.
West 8, Adriaan Geuze, is responsible for the garden design.
Photography is by Christian van der Kooy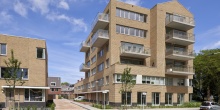 In cooperation with Smits bouwbedrijf, VVKH has won the european tender to develop a new housingarea in district Dieperhout in Leiden. The project consists of 48 dwellings, 12 apartments and a care facility of 1500m². Start of the constructionwork is planned in may 2015, because thats when a current school will move to a new building and the site will be available.